Post with 19 notes
That's the enthusiasm we need! I could watch this all day.
And look: slacks!
Post with 8 notes
Do a Google Image search for Bob Bradley. Here, I'll help you. As you can see in the pictures, and as I'm sure you've seen watching games on TV, he is not a man that wears his heart on his sleeve. Watching him coach a game it almost seems like he's not interested in the game, or he's not upset when the US team loses. I don't think that's the way he truly feels, I just think that the lack of emotions can come across that way.
The level-headed, unshakeable coach is one way to go about things, but I think we need someone who shows some emotion out there on the field. Let's hire someone who gets mad at the refs and the players every once in a while. Who cheers when we win, and storms off when we lose.
Post with 8 notes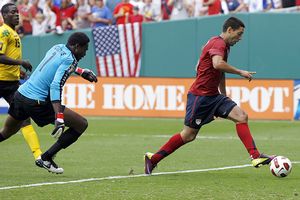 Let's give some credit where credit is due. Bob Bradley's team came out looking like a different team on Sunday against Jamaica. The two biggest changes were the lone striker and not starting Landon Donovan. Jozy Altidore started the game, which may or may not have been the best option for striker depending on who you ask, but the argument became moot after a few minutes when Altidore left due to injury and Juan Agudelo replaced him for the remainder of the game. Donovan didn't come on as a substitute until around the 65th minute, and his biggest contribution was to close the door on an easy scoring opportunity by staying way offside after passing the ball to Clint Dempsey. I really like the matchup of Bradley and Kljestan in the midfield. Effectively playing a 4-5-1 might seem a little too defensive, and there were plenty of missed opportunities as per usual, but I think the US played better as a cohesive unit on Sunday than in other recent games. So I say let's keep trying these tactics, and hopefully these changes will be enough to get back at Panama this coming Wednesday.
Post with 5 notes
Bob Bradley's son Michael plays on the US Men's National Team. Bradley the younger is good, I believe he would be starting most games regardless of who the US coach is. But it's still a little weird, right? It makes the United States team seem a little less professional than it could be. I mean, this is not youth level soccer where this sort of thing is tolerated or even expected, this is the highest level of international soccer.